Our guest speaker will be Jasmine Lester (pictured above), from Sun Devils Against Sexual Assault. 
Jasmine Lester is an ASU alum who has been involved in anti-rape activism at ASU for the past 8 years. She founded Sun Devils Against Sexual Assault, and has advocated for the Title IX rights of students at both the national and local level, which led to policy and cultural change at ASU.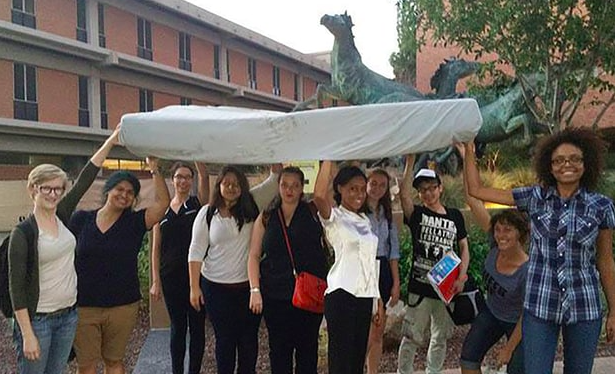 Sun Devils Against Sexual Assault is a group of current and former ASU students, staff, and faculty, committed to ending sexual violence on campus and at off-campus programming. SDASA raises awareness about the ways ASU silences victims and protects sexual predators, and advocates for better policies and practices.
Sunday, June 24, 2018, 10 am – noon
Thank you Nancy Hill for letting us meet in your space at Chartreuse/Hazel & Violet, 1301 NW Grand Avenue Phoenix, AZ
Nancy is the proprietor and printer of the letterpress shop next to the gallery called Hazel & Violet.
You can bring a covered drink as there are original artworks to be careful of. There is a really good Mexican coffee shop, Tres Leches, just east on Roosevelt and the corner of 15th Ave. and two new coffee/tea shops right on the block too.